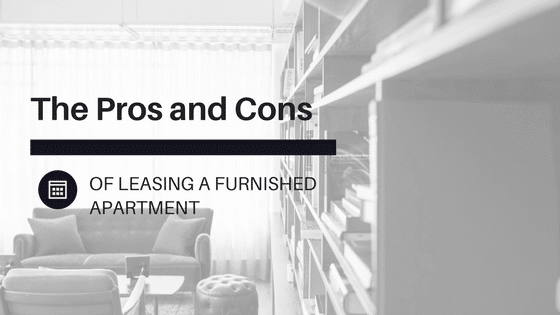 To furnish or not to furnish? That is the question.
It's not easy being a landlord. Once you've rented your place you'll have to deal with tenants who make late payments or don't respect the property. But those are simply the issues that come after you've found someone to sign a lease. The hardest part of being a landlord is knowing how to get a tenant to sign a lease in the first place. It's up to you to market your apartment(s) in the best way possible to get the best possible tenants.
With so many apartments competing for market share, you'll need to come up with creative ways to find tenants. Leasing furnished apartments can be a great option to evaluate.
Fully furnished apartments attract college students who don't already own their own furniture. They also attract retirees looking to downsize. These apartments appeal to a wide range of tenants from different ends of the spectrum. Before you put your apartment on the market, read our list of the pros and cons of leasing a furnished apartment.
Pros of Leasing a Furnished Apartment
Staging is a Cinch
You won't have to spend time and money staging an empty space if you plan to lease a furnished apartment. The only staging you'll need to do is to make sure the furniture is in its optimal position. This will be easier to do if your previous tenants have already moved out. If the old tenants are still occupying the apartment, ask them to conceal some of their clutter. Simplify the space as much as you can. Have your tenants remove as many personal items and knickknacks as possible. You want the new tenants to be able to imagine their own belongings in the apartment.
If you're looking to rent to college students, it's a good idea to provide a sofa and a bed. These specific items will help to give the apartment a comfortable, homey feel. Most college students are focused on going to school, working, and partying. There aren't too many students out there who want to spend their time on interior decorating.
College students want moving in and moving out to be as easy as possible. An apartment with furniture will be more appealing than an empty one that requires tenants to supply their own.
Furnished Apartments = Increased Rent
You can justify a higher monthly lease if you're providing your tenants with a furnished place. Beds, couches, coffee tables, and dressers can cost a pretty penny. If you can provide those things as part of the rent, you'll be able to command a higher price tag for your space. If you can offer more benefits, a tenant is likely to pay a little more.
Know Your Target Market
If you're renting a furnished apartment, know who your target market is before you show your property. A retired couple will want a different feel than a couple of college students. Make sure you position the furniture in a way that appeals to the customer you're trying to attract.
Cons of Leasing a Furnished Apartment
Chances Are, There Will be Damage
It's inevitable—no matter who you lease to, there's always a risk that a tenant will do some damage. In an unfurnished apartment, you'll only have to worry about the floors, appliances, and walls. But if you're leasing a furnished place, you'll have to worry about the furniture too.
Make sure to account for any potential furniture damage in the security deposit. Explain to your tenants that they are responsible for every bit of damage that they do.
Don't give your tenants the opportunity to destroy cherished items or irreplaceable heirlooms. Keep cherished items out of the apartment. With a furnished apartment, you should expect to replace items over time.
You'll Likely Attract Short-Term Leases
Tenants looking for short-term leases are more likely to be drawn to a furnished apartment than an unfurnished one. Would you want to move heavy furniture if you were only planning on staying put for a year or a few months? Probably not.
A furnished apartment will definitely attract people searching for short-term leases. That being said, a short-term lease is almost always better than no lease at all. If you're planning to rent to college students, you probably already expect that they will be gone at the end of the year. So the short-term lease is only a con if you think it will be difficult to lease it again.
Additional Cleaning Requirements
Renting a property requires extensive cleaning in between tenants. If you're renting a furnished place, the expenses will be greater. Build the cost of upholstery cleaning and replacement into your security deposit. No one is going to want to move into your furnished space if the couch is stained or the mattress is torn. Be prepared to replace items as needed. This will make it easier to find a new renter once the current tenant is gone.
Each landlord needs to decide for him or herself whether or not to supply a furnished apartment. Furnished apartments can enhance the quality of life for your residents. They can encourage tenants to make the decision to rent your apartment. They can also be a valuable way to get referrals for new tenants. Weigh the decision carefully. Make the determination before you list your apartment, and make sure that it's the right decision for you.
Author Bio:
Carolina Cove is the best value apartment complex in the Wilmington area, catering to students. Our new state-of-the-art upgrades are sure to make you feel right at home.