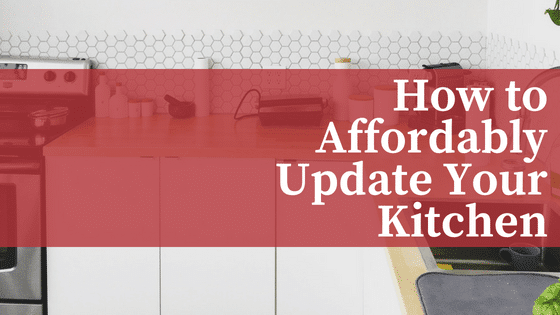 Intended Audience: For those interested in updating their kitchen on a budget
Remodeling your kitchen can be one of the most expensive (and inconvenient) renovations you can do in your home.
But it doesn't have to be.
Giving your kitchen a facelift can instantly update and add value to your home. And if you do the proper research and know where to look, you can do it affordably.
Check out these 5 tips and tricks to learn how to update your kitchen on a budget.
1. Decide What You Want To Update
Do you like your existing floors? Are you happy with your current cabinets? A successful kitchen remodel does not mean you need to gut the entire room and start from scratch.
The first thing you need to do is decide if you want to change a few elements or upgrade the entire room.
Cabinets, countertops, appliances, flooring, backsplashes… all these things take time and cost money. Once you've identified exactly what it is you want to change, you can begin researching the most affordable options.
2. Upgrade in Phases
Unless an interior design magazine is coming to photograph your home (and they're probably not), it's okay to upgrade in phases.
Without a speedy team of renovation experts on your side, it's best to upgrade your kitchen in small steps. Otherwise, you might have to live without a sink, a stove, or a fridge once the project is underway.
Pick projects that you can do at the same time that won't cause serious disruption to your daily routine.
For example, start with the cabinets. While the cabinets are being replaced or renovated, you'll still have use of your existing appliances.
Once your new cabinets are in place, move onto the appliances. Appliances are rather easy to remove and install, but even one day without a stove can be a big inconvenience.
Make arrangements to eat out or order in—it may be a few days before you have full use of your cooking essentials and kitchen amenities.
3. Not Sure What You Want To Change? Start Small…
If you're not sure what you want to change, start with small upgrades. Complete kitchen remodels can soar into the tens of thousands of dollars. So unless you're working with an unlimited budget, it's important to have a plan in place before any work begins.
There are some simple things you can do that can make a big visual change in a kitchen.
Consider making small changes, such as:
Replacing cabinet knobs
Painting the walls
Staining the floors
Adding a tile backsplash
In addition to these examples, there are many other small projects that can change the entire look of the room. Small changes can give your kitchen a much-needed refresh without breaking the bank.
Want to give your kitchen a brand new look in one day or one weekend?
Cabinet renovations can be done with ease. Paint your cabinets a fresh new color or replace wooden cabinet doors with frosted glass doors.
If you're neat and organized, consider removing the cabinet doors altogether. By removing the doors you can create a shelving unit that highlights your favorite dishes, glassware, or serving sets.
Some other small design ideas that can make a big difference include adding a tile backsplash or painting an accent wall. When choosing a new paint color, avoid these common color mistakes and remember to choose a semi-gloss finish. Semi-gloss paint makes it is easier to wipe off the spills, grease, and grime from cooking.
If you're not in the mood to do major upgrades but still desire a fresh look, consider purchasing a few new small appliances.
From blenders to mixers to toasters, new countertop appliances in a fresh color can make a big impact without any work at all. Check out brands such as Smeg and Kitchenaid to find small appliances in cool retro colors or bold, vibrant hues.
4. Know When to Call the Pros
We're big fans of DIY, but let's face it—there are some projects that are just too big and too complicated to pull off alone. To pull off a successful kitchen remodel, you have to know when to call in reinforcements.
If you're determined to install new countertops, cabinets, and floors, do yourself a favor a hire a contractor to do it for you. You're going to spend the money on the materials either way. But if you're not skilled at doing the labor, doing it yourself can actually end up costing you more money.
When you hire a pro, you'll also save yourself time and aggravation.
Not sure what you want to upgrade? Consider hiring a design consultant to guide you through the process. This might eat into your budget a bit, but if you let your consultant know what your total budget for the project is, they should be able to work with your needs.
A fresh coat of paint and a new kitchen table may be all you need!
5. Check Out Affordable Kitchen and Home Stores
Go shopping. That includes spending time shopping online and also going to brick and mortar stores to enjoy a full array of options. Wander the aisles at Ikea and Target before you make any decisions. Even if you don't buy anything, you're sure to find some inspiration.
Ikea has much more to offer than affordable couches, inexpensive lighting, and simple bookshelves. This global home decor giant has an entire team dedicated to helping you plan the kitchen of your dreams.
From countertops to cabinets to appliances, Ikea can help you build the kitchen you've always wanted. For an affordable service fee, they'll come to your home, take measurements, and perform the installation so you don't have to do it yourself.
Want your kitchen to look completely new by tomorrow? Head to your local Target to find everything from tables and chairs to curtains and countertop appliances. Spend just a few hours at Target and you'll enjoy the immediate gratification of a kitchen that looks fresh and new. No hard labor required.
There are lots of things you can do to give your kitchen a stylish refresh. Decide what it is you want to change. Make small updates or upgrade in phases. Shop stores like Ikea and Target (in person and online) for affordable items that can make a big impact. And most importantly, know when to call in the pros.
Your budget shouldn't dictate your style. Know where to shop, do your research, and look for inspiration. With a bit of ingenuity, you can have the kitchen you always dreamed of in no time at all!
Author Bio:
Chestnut Portland is a quiet community of one, two and three bedroom townhomes in Portland and Scarborough, Maine. Chestnut Portland is perfect for anyone looking for easy access to town, as well as a little fresh air and breathing room.