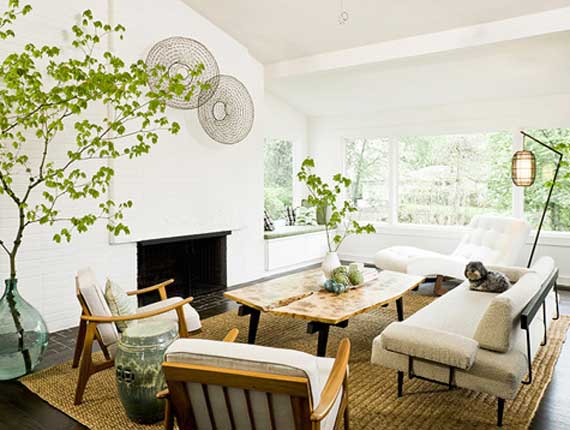 Spring is around the corner; a great time of year to refresh your home. Not many people are sure how best to rejuvenate their home. The great thing about the vibrancy of Spring is that you can bring the outside indoors. Spring decoration is about closing the chapter on the doom and gloom of Winter. It's also about injecting vitality into your home as we progress onto Summer.
Below, we review 7 brilliant and affordable ideas for decorating your home – simple ideas that you can implement in a matter of minutes.
#1 Bringing outside in
Bring the vibrancy of Spring indoors by adding some foliage to your home.
It doesn't necessarily have to be flowers, either. You could add twigs or other greenery – a touch of plant life that can transform your home. More importantly, this is a cost-effective solution, too. You don't need to opt for expensive plants that take an inordinate number of hours to take care of. Buy simple, easy-to-manage plants instead.
Don't limit yourself to the garden, though. Think about the seaside, too. Many garden centers now have an extraordinary range of seaside paraphernalia, too.
#2 Bright Lick of Paint
Have a limited budget and aren't quite sure how to transform your home?
A bright lick of paint is just the way to go. It's not only cheap but it deals with most space in your home – namely, the rooms. What color to choose depends upon the room in question and its purpose. However, you can be safe with Spring colors such as blues, yellows and greens. If your room can take it, think about shades of purple, too.
You don't need to focus on the walls. Think about your furniture and what you can add to complement the wall. For example, pillows and curtains that match the color of the walls. There are an infinite number of combinations you can mix and match. Again, an inexpensive solution that transforms the look of your home.
#3 Let there be light
As the leading property management company throughout Las Vegas, we have come across hundreds upon hundreds of homes. We know how important lighting is to buyers and sellers alike. Decorating your home to add light is simple and easy.
There are many easy-to-implement steps you can take to add more light to your home. Not only does this add to the Spring look of your home but it also makes your home more inviting. The darkness of Winter has long since passed. Now is the time to add light, and as much of it, as possible to your home.
Remove needless blinds and drapes. Allow sunlight to pour into your home throughout the day. Evidence shows that this is not only good for your home but also your mental wellbeing. Being subjected to an inordinate level of darkness is never a good thing.
#4 Scents of Spring
Bringing outside in; adding a bright lick of paint and allowing light to pour into your home is not enough. You should also emulate Spring scents, too.
This is both easy and affordable.
Whether it's Spring-scented candles or floral diffusers, there are quick and easy steps you can take to transform the smell of your home. Not only do these scents smell good, but they complement the new Spring look you're hoping to adopt.
A marriage made in heaven, and in the home.
Check back to our property management blog soon for even more great tips on decorating your home. If you're based in Las Vegas and are looking for property management services, be sure to contact us today.